Pet Advice
Humane Agencies in RI that Accept Surrendered Animals
If you have a pet that you can no longer keep, please contact one of the agencies below for assistance:
RI SPCA   401-438-8150
Potter League   401-846-8276
Animal Rescue RI   401-738-7606
Providence Animal Rescue League   401-421-1399
"Pets as Presents: A Good Idea?"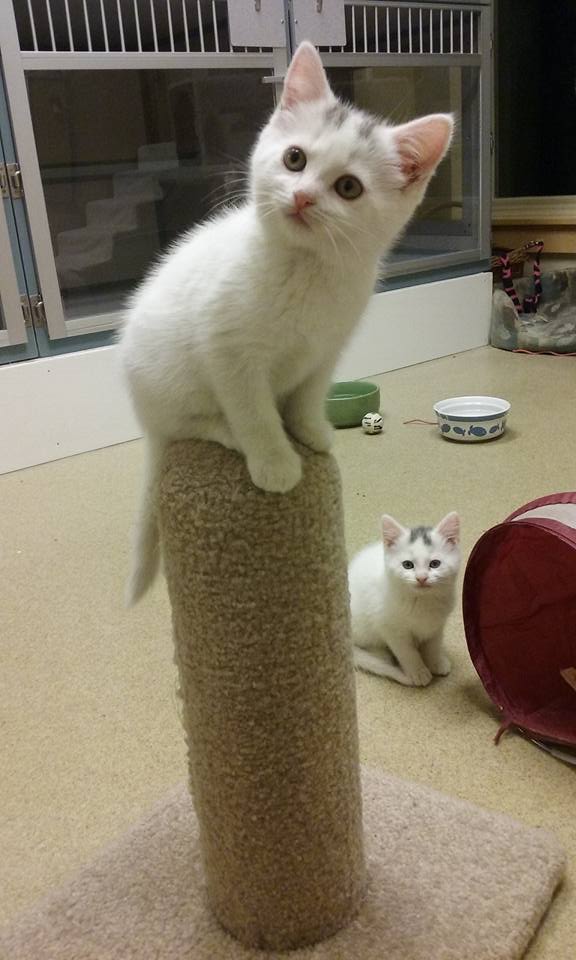 Pets as Presents – Planning Makes All the Difference.
You've seen it in the movies – sweet little Suzy toddles down on Christmas morning to find her new puppy sitting patiently under the tree with a big red bow around his neck. Suzy squeals, runs to hug the puppy, who gives her a big lick on the cheek, and the two live happily ever after.
While it would be great if such holiday surprises always worked out so well, that's often not the case. More frequently, 3-year-old Suzy, who is too young to know what caring for a pet really means, cries the first time Puppy bites her on the hand while the two are playing. Mom and Dad then pile him up in the car and drop him off at the local animal shelter along with the three to five million other dogs and cats returned to shelters each year.
But according to American Society for the Prevention of Cruelty to Animals (ASPCA) Senior Vice President Stephen Zawistowski, it doesn't have to go this way. With some forethought and a sincere commitment, pets can be a wonderful gift to give your family.
Are You Ready for a Pet?
Before you decide to surprise your family with a new pet for the holidays, take into consideration the following to determine if your family is ready to take on the responsibility of caring for a pet:
How old are your kids? Different pets are appropriate for different ages. For example, your 4-year-old who is pleading for a cat is not capable of taking on the responsibility. "Just because a child begs for a cat or kitten does not mean that they are ready to have one," says Barb Wills, who operates Cats Haven, a no-kill shelter for cats in Indianapolis, Ind. Instead, says Zawistowski, you might consider a guinea pig, which is easy to care for, likes to be held and rarely bites.
Do your kids really want a pet? "Children like animals, but not all children really want to have them around the house," says Zawistowski. Contrary to popular belief, every little boy does not want or need a dog. Just because your little one enjoys playing with Grandma's poodle does not mean he's ready or even wants to take on full-time care of a poodle himself.
Have you thought about the cost? "That's one of the things people often fail to anticipate," says Zawistowski. Many people don't think past the initial fee required to adopt. But, he says, a cat costs about $350 to $400/year and a small or medium dog costs about $400 to $500/year, with larger dogs even more.
Are you committed? Pets are not something that you can take home, try out and return if they don't suit you. You're taking on a commitment to care for that animal for the rest of its life. If your child is a teen, remember that the animal will be with you when your son or daughter heads off to college. "A cat can live to be at least 15 years – we have one here who is 21 years old," says Wills. "The family has to realize that it is a lifetime commitment with vet visits, supplies needed for its care, with time and love to be spent on the pet."
Are you educated about what caring for an animal entails? Don't forget that an animal's an animal. That means cleaning up bathroom accidents and vomit, picked at furniture if you want a cat and dealing with other typical animal behaviors. "There are going to be bumps in the road," says Zawistowski. "Be ready and committed to work through those bumps."
Don't get a pet to teach your child responsibility. If your child fails to be responsible, the animal may be harmed. Instead, says Zawistowski, "It's a great way of rewarding responsibility."
Planning the Surprise
OK, so you've thought it through, and you feel that everyone is ready and committed. Now what? It's probably not the best idea to have Fido or Socks waiting under the tree on Christmas morning – and of course, don't EVER wrap them up, as we've all seen done on TV a million times.
Belinda Clarke, a mom living in Evanston, Ill., decided to surprise her mom with a new cat on Thanksgiving. "She was slightly apprehensive at first, since it was sprung on her, but since we had had a cat before (which had died several months before), I knew she would love it," she says. "And she did – after about two minutes. Now both my parents absolutely love her."
While Clarke's holiday surprise did work out, many times the apprehension she describes doesn't go away. So rather than have to take Kitty back to the shelter or find her a new home, Wills recommends purchasing a gift certificate from the shelter to give to your loved one. (You can also give a Pet Promise Certificate.) That way you still keep the element of surprise, but in case it's unwanted, no animals are affected.
Another idea, according to Zawistowski – which may be more fun for kids – is to buy a stuffed dog or cat and have it sitting with the gifts. You can purchase some of the equipment for the pet like a carrier, leash or bed and have the stuffed animal all decked out in gear. Then you attach a note (or Pet Promise Certificate) saying everyone will go together to pick out their new pet after the holidays.
Bringing Home Your New Family Member
Before you go pick up your new pet, get your family involved in deciding what type, size and breed of animal you'd consider. Take a trip to the bookstore or library, and read up on which breed's characteristics might fit in best with your family.
Once you've got an idea what you're looking for, where should you go? An animal shelter. According to the ASPCA, each year millions of dogs enter shelters, yet of the approximately 59 million owned dogs in this country, less than 20 percent are shelter adoptees. By adopting at a shelter, you're giving a homeless pet a new chance at life.
But there are other great reasons for going to a shelter. The cost is low, and there are often discounts on spaying and neutering. "They're in the business to help animals have good homes, not to make money," says Zawistowski. They also have a good selection of pets and knowledgeable staff to make sure you're getting the right animal for your family.
Zawistowski also suggests logging on to PetFinder.com, either at home or at the library, which allows you to search more than 4000 different shelters by breed, location, size and more for animals up for adoption. The whole family can get involved, looking at pictures and profiles to find the perfect pet.
"You can turn this whole experience into an extraordinary experience for the kids," says Zawistowski. "It's fun to surprise, but it's as much fun to have kids be a part of the process."
When you've done it right, your child will likely end up with a longtime friend and companion. Says Zawistowski, "A child who can have a pet, it can be one of the most magnificent parts of their life."
Age-appropriate Pets
Use the following guidelines when choosing pets for your children, as provided by the ASPCA:
Under 3 – Focus on introducing Baby to your current pets. It's not appropriate to bring in a new pet at this point.
3 to 5 – Guinea pigs are a good choice, as they like to be held, seldom bite and will whistle when excited or happy. Your child can help fill the water bottle or food dish.
5 to 10 – Choose shelf pets like mice, rats or fish. Kids can help clean cages with adult help, though you should always check to ensure that pets have food and water and cages are secured.
10 to 13 – Your child is now ready for the responsibility of a dog, cat or rabbit. Your child can help feed the pet, walk the dog, clean the rabbit cage and clean the cat litter, but you should always check to be sure pets have everything they need. Participation in dog training classes is an excellent learning opportunity for children.
14 to 17 – Your child may have more activities competing for his time and less time to spend with a pet. Birds or aquariums are a good choice. Remember, you will have the pet once they leave to go to college.
*About the Author: Lyn Mettler is an assistant editor for iParenting Media and mom to two cats.
Prepare Pets for RI Emergency
What is my plan of action?
Before the Storm
1. Persons with pets who may be displaced by a disaster should make arrangements NOW for their pets' safety. If you will need help to evacuate (e.g., if you have a disability) and have a pet, inform the public safety, police, or emergency management office in your town as soon as possible.
2. Be sure licenses and vaccinations are up-to-date.
3. Assemble a Pet ID Pack and a Go Kit (go to www.dem.ri.gov/animals for more details on what to include in your pack and kit).
4. Keep a copy of the Pet ID Pack with you and send a copy to your "buddy."
5. In case it is best to stay put, identify a place at home to keep your pets indoors, ideally comfortable and convenient, but also sheltered from outside hazards.
6. In case an evacuation is necessary, do not assume that public shelter will also accommodate animals (except for service animals such as guide dogs). Make and keep up-to-date a list of pet-friendly motels, reliable friends, or relatives where you and your pets could seek shelter together and a list of kennels. These places should be well separated from your home, but close to the interstate or evacuation route. Call ahead to ask if there is space and if special forms of payment or security deposits need to be readied.
7. Arrange now for transportation of pets and carriers, especially if you may need assistance.
After the Storm
Planning and preparation will help you endure the disaster, but your home may be a very different place afterward, whether you have taken shelter at home or elsewhere.
If your pet is with you…
– Don't let pets roam loose. Familiar landmarks and smells might be gone, and your pet will probably be disoriented. Pets can easily get lost in such situations.
– For a few days, keep dongs on leashes and keep cats in carriers inside the house. Be patient with your pets after a disaster. Try to get them back into their normal routines as soon as possible, and be ready for behavioral problems that may result from the stress of the situation.
If your pet might be lost…
– Act quickly, but remain calm.
– Ask around your neighborhood.
– Hand out flyers with a picture of your pet and contact information for you.
– Start checking animal shelters or municipal pounds within about 20 miles of your home.
– Put an ad in local papers.
Source: What to do with common household pets (dogs, cats, birds, rabbits, and rodents) in the event of an emergency. Prepare Pets For RI Emergency. Providence, RI: Rhode Island Department of Environmental Management Division of Agriculture, Print.
Missing Your Pet?
To report a lost or found pet in Bristol, please contact the shelter at 401-253-4834. After speaking with an Animal Control Officer, please send us an email at friendsofbristolanimalshelter@gmail.com or private message us on our Facebook page. We will post your animal on our Facebook page. Please include as much of the following as possible in your email or message:
-Recent photo of pet
-Name of Pet?
-Gender?
-Breed?
-Description of the fur… long or short haired, color, any identifying markings?
-Is he/she neutered or spayed?
-Is he/she wearing a collar? If yes, what color?
-Are there any tags on the collar? If yes what kind? Do they contain your contact info?
-FOR CATS ONLY… Is he/she declawed? If yes, fronts only or fronts and backs?
-Where was the pet last seen? Make sure to include as much info as possible: street names, direction of travel, town/city and state.
-How long has the pet been missing?
-Any additional information you feel may be relevant?
-Way to contact you if someone sees the pet or has them? We recommend phone number or email address.
The following is a list of  additional ways to help you find your missing pet:
– Call local shelters and vet offices and report your pet missing.
– Check with your neighbors for sightings and notify them of your missing pet. Especially in the winter time, if you are missing a cat, have your neighbors check their garages and sheds.
– Place posters of your pet with your contact information and the shelter's contact information around your neighborhood.
– Call your local paper and have them post your missing pet in the lost and found section of the classifieds.
– Post your missing pet on Facebook: RI Lost Pets
Never Leave Your Pet in a Parked Car!
On a warm, sunny day windows collect light, trapping heat inside the vehicle, and pushing the temperature inside to dangerous levels. On an 85-degree Fahrenheit day, for example, the temperature inside a car with the windows opened slightly can reach 102 degrees within ten minutes. On hot and humid days, the temperature in a car parked in direct sunlight can rise more than 30 degrees per minute, and quickly become lethal.
Heatstroke occurs when a dog's or cat's temperature rises about 104 degrees. Be on the lookout for some or all of these symptoms:
* unusually heavy panting
* an anxious expression or behavior
* rapid heartbeat/dizziness, lack of coordination
* weakness/collapse/excessive thirst
Heatstroke can kill your pet very quickly, so if you suspect there's a problem, it's imperative that he get to the vet immediately to have his condition professionally evaluated and treated.
In the meantime, you must attempt to lower his temperature by moving him to a cooler location, dousing him with cool (not cold) water or wrapping the neck, head and chest in cool, damp towels. Encourage him to drink or lick ice cubes, but don't force it. Some animals with heatstroke may not be able to swallow properly, and forcing liquids could actually make him drown.
Follow these tips to help your pet beat the heat and you'll both survive the dog days of summer like a couple of cool cats.
Source: "Those lazy, hazy, crazy days of summer" The Paw Street Journal – A Pet-Loving Publication from Acoaxet Veterinary Clinic (Spring/Summer 2009).
Need to Have Your Pet Spayed or Neutered?
Benefits of Spaying (females)
* No heat cycles, therefore males will not be attracted
* Less desire to roam
* Risk of mammary gland tumors, ovarian and/or uterine cancer is reduced or eliminated, especially if done before the first heat cycle
* Reduces number of unwanted cats/kittens/dogs/puppies
* Helps dogs and cats live longer, healthier lives
Benefits of Neutering (males)
* Reduces or eliminates risk of spraying and marking
* Less desire to roam, therefore, less likely to be injured in fights or auto accidents
* Risk of testicular cancer is eliminated, and decreases incidence or prostate disease
* Reduces number or unwanted cats/kittens/dogs/puppies
* Decreases aggressive behavior including dog bites
* Helps dogs and cats live longer, healthier lives

The following is a list of low cost spay/neuter clinics:
Animal Associates
606 State Rd North Dartmouth, MA 02747
(508) 991-3900
Cats, dogs
Low cost spay/neuter, vaccinations.
PAAWS RI
2944 Post Rd Warwick, RI 02886
(401) 739-7387
http://www.care4animals.net/
Cats, dogs, feral cats
Assistance for low-income owners. Spay/neuter, wellness exam, vaccinations, euthanasia/cremation.
Pet Partners
139 Shaw St Fall River, MA 02724
(508) 672-4813
www.petpartnersne.org 
Cats, dogs, pocket pets (rabbits, hamsters, guinea pigs, chinchillas, rats)
Services available regardless of income. Spay/neuter, medical clinic (wellness exam, vaccinations, heartworm and flea/tick prevention), dentistry.
Spay Neuter Assistance Program (S.N.A.P.) at Providence
Rhode Island Community Spay/Neuter Clinic
235 Elm St Warwick, RI 02888
(401) 369-7297
www.RICSNC.org
Cats, dogs
Spay/neuter, vaccinations. Treatment packages available. Discounted prices for pit bulls and feral cats. The Bristol Animal Shelter is a pick-up/drop off site for anyone needing transport.
Rhode Island Veterinary Medical Association (RIVMA) Spay/Neuter
Assistance Program
302 Pearl Street #108 Providence, RI 02907
(401) 751-0944
http://rivma.org/owners/spay-neuter-assistance-program
Cats, dogs
Discounted spay/neuter with proof of low-income status or benefits received.
Apply online.
Salmon River Veterinarian
Mobile RI veterinary unit
(401) 793-0092
http://www.rimobilevet.com/
Cats only
Low cost spay/neuter clinics. Check website calendar for clinic dates and locations.
Rabies: It's always fatal. Is your pet protected?
The rabies virus represents a serious risk to people and their pets – with hundreds of cases in pets each year in the United States alone. All it takes to contract this deadly disease is exposure to an infected animal through a scratch, cut, or bite.
Fortunately, there's something you can do. A simple vaccination is the best way to help protect your pet against rabies. Even if you keep your pet indoors, it should still be vaccinated – and it's usually required by law.
What is rabies?
Rabies is an acute viral infection that can affect all warm-blooded animals – including dogs and cats. The disease is almost always caused by the bite of an infected animal that has rabies virus in its saliva. Younger animals are usually more susceptible to rabies infection. And it's always fatal once clinical signs appear.
What if my pet has possibly been exposed?
If your pet has been bitten by or exposed to a wild or potentially rabid animal, talk with your veterinarian right away and report it to local animal control authorities. Even if your pet has a current vaccination, you should still contact your veterinarian.
Signs and Prevention
Once the rabies virus enters the body, it travels along the nerves to the brain. It can take a matter of days, weeks or months for your pet to show signs of the rabies virus.
Infected animals often show anxiety, aggression, restlessness and erratic behavior. They also may develop weakness, poor coordination or tremors. Wild rabid animals commonly lose their fear of humans. Species that are normally nocturnal may be seen wandering about during the day.
Dogs, cats or ferrets that have never been vaccinated and are exposed to a rabid animal may need to be euthanized or placed in strict isolation for six months. Check with your veterinarian or local public health official for requirements.
Vaccinate to protect your pet.
Your veterinarian is committed to helping you make the best choices for your pet's health. To give your pet the protection it needs, this clinic recommends vaccination with IMRAB rabies vaccine. Veterinarians have trusted IMRAB rabies vaccine to protect millions of pets – six species in all, including dogs, cats and ferrets – for 20 years. In fact, it's the leading vaccine for rabies protection worldwide. Vaccination is one of the best ways we can help protect people and pets from rabies.
What else can you do?
– Don't leave garbage or pet food outdoors where it may attract wild or stray animals
– Observe all wild animals from a distance.
– If you see a wild animal acting strangely, report it to your local animal control authorities.
Source: It's always fatal. Is your pet protected? Rabies: Duluth, GA: IMRAB, 2008, Print.